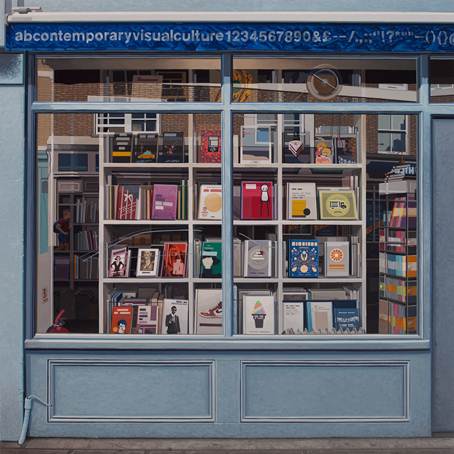 Città
Nei paesaggi urbani di David Earle si riscontra una ricerca costante di elementi geometrici: un sistema rigoroso di linee che ingabbiano e scompongono la realtà per poi ricomporla e mostrarla sotto una nuova luce.
La descrizione è precisa, nessun dettaglio viene tralasciato, dagli oggetti nelle vetrine dei negozi ai muri carichi di graffiti; è un racconto esteso, narrato attraverso un tratto pittorico sicuro e preciso, accompagnato da un uso deciso del colore. Sì sono i rossi, i gialli, i blu intensi a caratterizzare la visione di Earle, a spezzare il grigiore della quotidianità e reinventarla.
In David Earle's urban landscapes there is a constant search for geometric elements: a rigorous system of lines that cage and break down reality to then ricompose it and show it in a new light.
The description is precise , no detail is overlooked, from the objects in the shop window to the graffiti laden walls ; it is an extended story, told through a confident and precise stroke, joined to a decisive use of color. Yes, it is reds, yellows and intense blues that characterize Earle's vision, breaking up the dullness of everyday life and reinventing it.