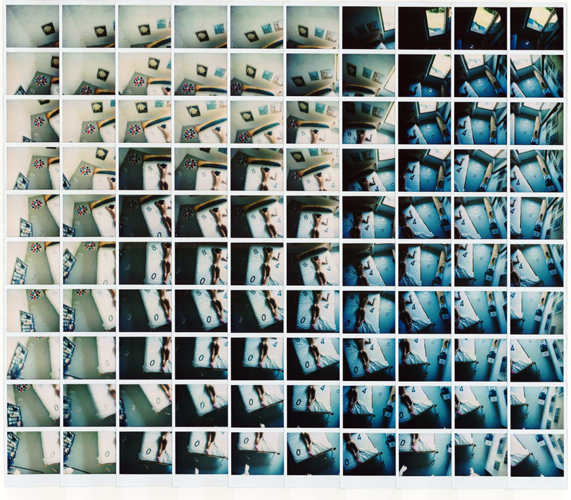 Maurizio Galimberti was born in Como, in 1956, he lives in Meda, Brianza, since his childhood, where he attends a school for surveyor.
The passion for photography brings him to take part in many photographical competitions, some of them won under pseudonym.
He starts working with the classic analogyc film, but in 1983 he discovers Polaroid, that becomes a basic and irreplaceable component of his work.
Galimberti choses Polaroid because he couldn't stand to wait for the development to see the risult of his shot, and because he immediately liked Polaroid colours.
Since 90's he dedicates exclusively to the photographical activity, after giving up family business. In 1991 he starts to collaborate with Polaroid Italia, of which he soon becomes the official testimonial. From works dedicated to urban views he starts to make portraits. In 1999 Class give him the first place between portrait photographers.
We can also mention the cover of the english edition of Times Magazine of September 27th 2003, with Johnny Depp's portrait.
He made many advertising campaigns and important catalogues dedicated to some cities of the world.
He exhibited his work in many public and private art galleries in Italy and abroad, we can mention the following solo shows:
2013 Paesaggio Italia, Venezia, Palazzo Franchetti
2012 New York, Dillon Gallery
2008 Venezia Polaroid, by Denis Curti, Forma, Milano
2004 Maurizio Galimberti. Venezia immagine. Italian Pavillion, Venezia
Napoli istantanea, by Giuliana Scimè, Castel dell'Ovo, Napoli
Viaggio in Italia, by Enrica Viganò, Palazzo Arese Borromeo, Cesano M.
Il giardino d'inverno, by Denis Curti, Palazzo della Triennale, Milano
2000 Work in progress portraits, Polaroid Pavillion Photokina, Kologne
1998 Live for the moment, Italian Cultural Institute, London
1997 Bello quotidiano, Viaggio in Italia, Johenbau Klee und Kandinsky Meisterhaus, Dessau
and the following group shows:
2008 Biennale internazionale di fotografia di Brescia, by Ken Damy
2007 Paris Photo, Photo Contemporary Pavilion, Carrousel du Louvre, Paris